Once an entirely functional – and not particularly comfortable – piece of furniture, the kitchen stool has now come of age. Perfect in a French country kitchen, a bright, airy breakfast room, or a sophisticated dining space, today's kitchen stools are designed not only to look stunning but to be as comfortable as every other piece of luxury furniture in your home.
Offering a level of comfort that will take you from cocktails to an after-dinner coffee, a set of beautiful designer kitchen stools from Rococo Decor is what every home needs.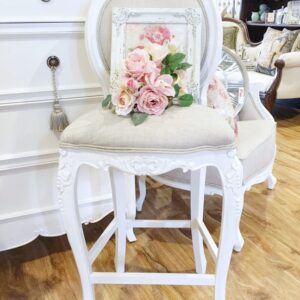 Adorn your bar, island or counter with the gorgeous Anastasie Kitchen Stool. Carved from solid mahogany, it features lovely cabriolet style legs & offers a deep foam upholstered cushion for comfortable seating. This stool makes a beautiful addition to your home while serving an important...