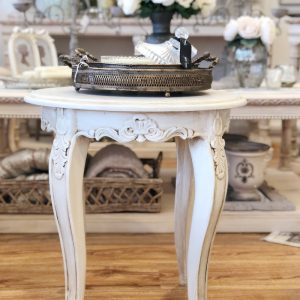 Perched upon ornate exquisitely carved legs that lend a look of timeless elegance, This round Nathalia Accent Table is one that's at home nearly anywhere in your living space. Featuring a lovely circular profile, delicate botanical details and a unique finish to show its beauty....
The elegant Nathalia Drawer Dresser is the essential unit for your infants' nursery. Hand carved from solid mahogany, if features delicate scroll carvings and cabriole style feet. Ideal for all your storage needs – from clothing and bedding, to toys and books – the five...
Add an attractive, versatile element to a nursery with our gorgeous Nathalia Rocking Chair. Whether you are looking for a nursing chair, reading chair, or a place to simply cuddle up with your little bundle of joy, our rocking chair is a great way to...