Amaury Provencal Bookcase
Availability:
Out of stock
Sized to house an entire collection, the Amaury Provencal Bookcase makes an impressive addition to your library, den, or study. Three shelves provide a generous amount of space for your favourite books, decorative objects, and more, while two lower draws lets you house smaller items that you'd rather keep hidden.
---
Stock status: Made to order
---
Designs can be reproduced in your choice of fabric, size, and finish. Contact us to verify availability or to discuss how we can custom make the perfect furniture piece to suit your needs.
NOTE:

This is a handcrafted product, made from natural materials, and as such each product will slightly have its own unique shape, carvings or natural grain. This adds to the beauty of each piece and is not considered as an imperfection.
---
Colours, textures, and patterns viewed from your screen or printer may vary from actual production due to individual computer/monitor or mobile phone settings.
Out of stock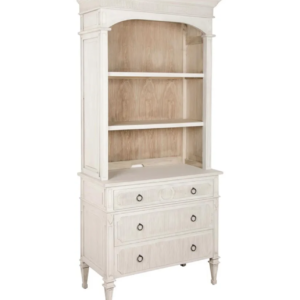 Dimensions: 225cm (H) x 105cm (L) x 59cm (W) Material: Alder Stock status: Available to order We partner with quality global suppliers and aim to have your order to you as soon as possible. Shipping can take anywhere between 10 - 20 days depending on the supplier,...