Artificial Green Olive Tree
If you love the look of plants around your home but don't exactly have a case of the green thumb, our new range of Artificial Olive Trees is the perfect pick! Featuring plump olives, this tree showcases a single trunk that splits into several branches, lending some natural appeal to your arrangement.
---
This realistic faux olive tree is an interesting and quirky update to the green interior trend. Its rustic Mediterranean charm helps to create a relaxing and calm environment, bringing a touch of Tuscan sun straight into your living room.
---
This item comes pre-made in a plastic pot, ready to be placed in a stylish pot of your choice.
(Not suitable for outdoor use).
---
Colour: Green
---
Colours, textures, and patterns viewed from your screen or printer may vary from actual production due to individual computer/monitor or mobile phone settings.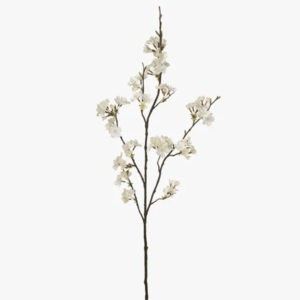 Bring the garden indoors with this gorgeous branch blossom cherry. With minimal maintenance this faux branch blossom cherry can offer enduring beauty and bring warmth and vibrancy to your home or interior space. Size: 105cm Contact us  Colours, textures, and patterns viewed from your screen...