Aubrey Diamond Tufted Cot
Sweetly sophisticated, the Aubrey Diamond Tufted upholstered design exhibits all the hallmarks of the Louis XV antique we were inspired by, with its classic curves and detailed carvings. Made from solid mahogany it features deep button tufting and is set on curved cabriole legs and topped with a flourish of carves foliage.
---
Stock status: Made to order
---
All designs can be reproduced in your choice of fabric, size and finish. Contact us to verify availability or to discuss how we can custom make the perfect furniture piece to suit your needs.
---
Colours, textures, and patterns viewed from your screen or printer may vary from actual production due to individual computer/monitor or mobile phone settings.
Add to Wishlist

Add an elegant touch to your baby's nursery with the striking Tatius Upholstered Cot. The classic curve details of this crib recreate the look and feel of an aged piece while maintaining the authenticity and integrity of the original French country design that served as...
You might also be interested in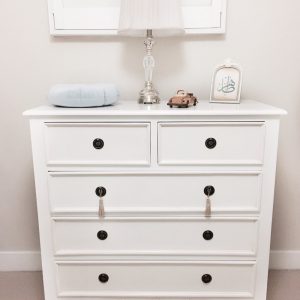 The stylish Aubrey Drawer Dresser is the essential unit for your infants' nursery. Inspired by the Roman architecture it features traditional dentil moulding, contemporary routing and imperial feet, that are timeless and thoroughly modern. Ideal for all your storage needs – from clothing and bedding,...