Florence Blue Long Salon Oak Chair
Dimensions: 88cm (H) x 99cm (L) x 113cm (W)
---
Stock status: Available to order
We partner with quality global suppliers and aim to have your order to you as soon as possible. Shipping can take anywhere between 10 – 20 days depending on the supplier, although most times it is between 10 – 15 days.
---
Please Contact us to place an order
---
Colours, textures, and patterns viewed from your screen or printer may vary from actual production due to individual computer/monitor or mobile phone settings.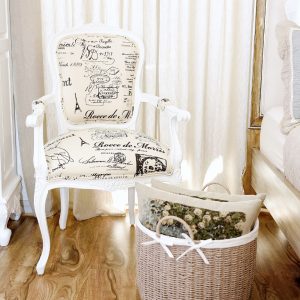 The exquisite Anastasie Scripted Armchair is the perfect addition to any room in your home. This chair not only embellishes any dining set, but it also doubles as a stand-alone piece for any parlour or living room.  Dimensions: 95cm (H) x 53cm (D) x 30cm...