Madeleine Dressing Table and Stool
Perched upon delicate, hand-carved legs, the sophisticated Madeleine Dressing Table and Stool is embellished with beautiful hand carved botanical details. Meticulously crafted of solid mahogany, it features five storage drawers and a matching stool. This dressing table is both elegant and functional, and makes a charming addition to any room.
---
Stock status: In stock
---
Colours, textures, and patterns viewed from your screen or printer may vary from actual production due to individual computer/monitor or mobile phone settings.
1 in stock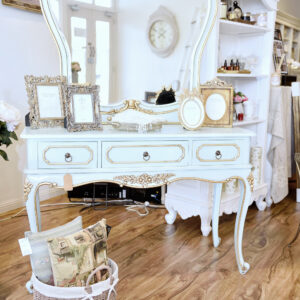 Start your morning in the grandest way with our Provincial style Amara Mirrored Back Dressing Table. This strikingly elegant dressing table has everything you need to get ready for the day. The beautiful frame is crafted from solid mahogany. Design features include carved details, cabriole...