Nicolette Ornate Diamond Tufted Antique Grey Bed
Add the Nicolette Ornate Diamond Tufted Antique Grey Bed to your bedroom and enjoy the luxury of old Provence. This estate-worthy piece is handcrafted from solid mahogany and features cabriole style legs (all 6 of them!), beautiful hand-carved baroque style acanthus leafs & stylised florals details. Diamond tufted upholstery elevates this bed to the next level. This exquisite bed can be ordered in a variety of finishes; the exterior and interior can be ordered in different painted finishes and stains.
---
Stock status: Made to order
---
Designs can be reproduced in your choice of fabric, size, and finish. Contact us to verify availability or to discuss how we can custom make the perfect furniture piece to suit your needs.
NOTE:

This is a handcrafted product, made from natural materials, and as such each product will slightly have its own unique shape, carvings or natural grain. This adds to the beauty of each piece and is not considered as an imperfection.
---
Colours, textures, and patterns viewed from your screen or printer may vary from actual production due to individual computer/monitor or mobile phone settings.
Recently viewed products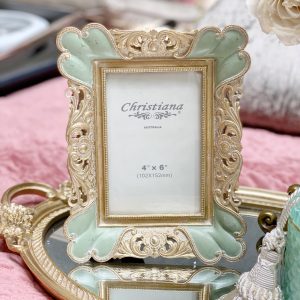 Embody a more classical tone in your décor with the enriched design of the Marianne Gold & Sage Photo Frame. Finished in an antique gold and sage colour, it features beautifully carved details. Perfect for adorning a side table, console table, or desk in your...