Racette Armoire
Availability:
Out of stock
Beautiful floral carvings that adorn the crown, turns the Racette Armoire into something special! A distressed sand finish and a wire screen door makes this a perfect choice for your French County decor. Stately and functional, this exquisite armoire has many uses. Three storage shelves appear behind a mesh wire door making it possible to view the contents. Use this gorgeous armoire as a free-standing pantry in a country kitchen or place it in the master bath to store linens and other bathroom items. 
---
Stock status: Made to order
---
Designs can be reproduced in your choice of fabric, size, and finish. Contact us to verify availability or to discuss how we can custom make the perfect furniture piece to suit your needs.
NOTE:

This is a handcrafted product, made from natural materials, and as such each product will slightly have its own unique shape, carvings or natural grain. This adds to the beauty of each piece and is not considered as an imperfection.
---
Colours, textures, and patterns viewed from your screen or printer may vary from actual production due to individual computer/monitor or mobile phone settings.
Out of stock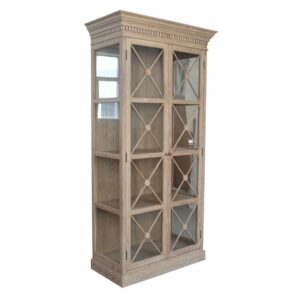 Dimensions: 220cm (H) x 56cm (D) x 112cm (W) Material: Oak timber (white wash finish) Stock status: Available to order We partner with quality global suppliers and aim to have your order to you as soon as possible. Shipping can take anywhere between 10 - 20 days...