Savannah French Armchair
Availability:
Out of stock
Elegance and comfort come together with the Savannah French Arm Chair. Hand-carved from solid mahogany, the bold black & white fabric paired with a sophisticated antique white finish creates a blending of style that adds an exciting touch to your interior space. Use this beautifully detailed chair in the dining room, sitting area or foyer to compliment any style decor.
---
Stock status: Made to order
---
Designs can be reproduced in your choice of fabric, size, and finish. Contact us to verify availability or to discuss how we can custom make the perfect furniture piece to suit your needs.
---
Colours, textures, and patterns viewed from your screen or printer may vary from actual production due to individual computer/monitor or mobile phone settings.
Out of stock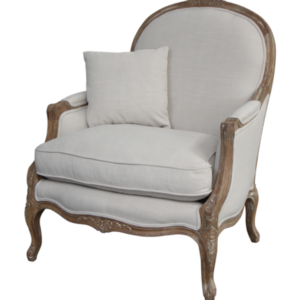 Natural antique designed chair with linen lining and exposed wooden framing. This chair has the true character of French furnishings with its classically structured cabriole frame and round backing. This design goes beyond its time period, and would be beautifully styled in any kind of...