Vivien Balloon Chair
Classic sophistication gets a touch of modern whimsy with the Vivien Balloon Chair eye-catching arm chair.
---
Dimensions: 63cm (H) x 32cm (D) x 32cm (W)
---
Stock status: Made to order
---
All designs can be reproduced in your choice of fabric, size and finish. Contact us to verify availability or to discuss how we can custom make the perfect furniture piece to suit your needs.
---
Colours, textures, and patterns viewed from your screen or printer may vary from actual production due to individual computer/monitor or mobile phone settings.
Add to Wishlist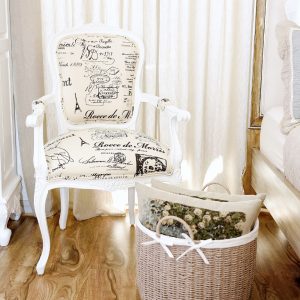 The exquisite Anastasie Scripted Armchair is the perfect addition to any room in your home. This chair not only embellishes any dining set, but it also doubles as a stand-alone piece for any parlour or living room.  Dimensions: 95cm (H) x 53cm (D) x 30cm...