Stephanie Open Bookcase
Availability:
Out of stock
Intricate details abound in the stunning arched Stephanie Open Bookcase, making it the ideal place to house a collection of treasured books or objects. Hand-made from solid mahogany and finished in an antique white stain, it features lovely floral carvings. Place it in the foyer as a personal greeting for your guests or brighten up the corner of any room.
---
Dimensions: 215cm (H) x 37cm (D) x 111cm (W)
---
Stock status: Made to order
---
Designs can be reproduced in your choice of fabric, size, and finish. Contact us to verify availability or to discuss how we can custom make the perfect furniture piece to suit your needs.
NOTE:

This is a handcrafted product, made from natural materials, and as such each product will slightly have its own unique shape, carvings or natural grain. This adds to the beauty of each piece and is not considered as an imperfection.
---
Colours, textures, and patterns viewed from your screen or printer may vary from actual production due to individual computer/monitor or mobile phone settings.
Out of stock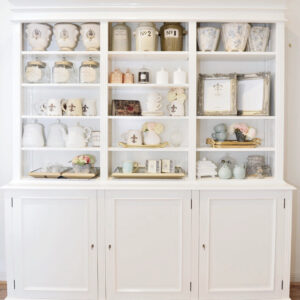 With crisp, clean lines and ample storage space for your favourite things, the Bella Cottage Display Cabinet offers heirloom-quality craftsmanship. With eleven shelves on its upper section, it includes three locking doors that swing wide to reveal a spacious interior with even more shelving. Ideal...